5% off 2018 Globus Asia, Africa and South Pacific early bookings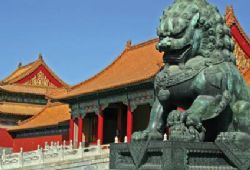 5% off 2018 Globus Asia, Africa and South Pacific early bookings
An ordinary vacation is passive. An extraordinary vacation is called a tour. More precisely, a Globus tour. Because on a Globus tour you do. you make; you create; you experience. very best of the destinations we know so well. And now, you can save 5% per person on Globus Asia, Africa and South Pacific vacations in 2018*.
Must be booked May 1, 2018 to take advantage of these
...

Globus vacation packages are built on the belief that each destination should become a fascinating chapter in the story of your life. Globus tours are enriching journeys—we make sure travelers experience local culture and unique attractions that remind you why you love to travel. From transportation to hotels; and from researching must-see attractions to organizing daily schedules, planning a vacation is no easy task. That's where escorted tour packages come in. With escorted travel, yo
...
Multiple itineraries available